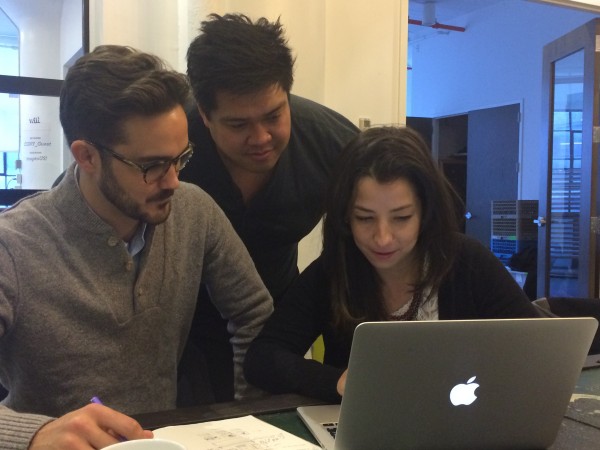 Propeller is part of the postgraduate incubator program at the Centre for Social Innovation formed by 3 MFA Transdisciplinary Design Graduates who have a great passion for service design. Michael Varona '14 brings business degree and over a decade's worth of professional marketing, branding, and business development experience. Sean Baker '14 draws from his experience in a range of disciplines from design + build, fine art, and systems development. He creates industry tools, engaging experiences and holistic systems that benefit people locally and internationally. Leah Cabrera '15, an architect and designer in Spain, India and Guatemala, is now concentrating her efforts on addressing urban issues and spatial challenges. She is applying design-thinking mindset to navigate open-ended problems and propose valuable strategies.
Propeller's Big Idea
Propeller is an initiative which uses service-design methodologies and iterative prototyping to develop ideas and build capacities within communities and organizations. Its main objective is to bolster local economy through local ownership, and level the playing field in regards to business resources and opportunities.
Propeller consists of two prongs: one focused on local proprietors in a community, and the other on organizations looking to innovate.
1. The Urban Business Refinery takes advantage of empty, under-utilized spaces, in prime commercial locations, to provide a place for community residents to prototype and refine their entrepreneurial endeavors. In a low-cost/low-risk manner, they ask participants to put their concepts in front of their customers to assess interest, hone their skills, and evolve their offerings.
2. Organization Lab concentrates on innovation capacity-building through ideation workshops and concept prototyping helping community-based organizations to thrive and anticipate change. Propeller makes accessible the tools of innovation and design-thinking, which are typically only available to corporations and organizations large enough to engage expensive consultancies.
Propeller's Impact and Objectives
In the short term, Propeller wants impact to be significant for the local proprietors they reach. "We want to provide them skills, documentation, and a proof-of-concept to aid in securing capital". In the long run – wants to establish a permanent presence to provide opportunities for those who would have otherwise never aspired to run their own businesses. On a larger scale, this could have a revitalizing effect on the street aesthetic, bolstering the local economy through new investment as well as increased foot-traffic and commerce. In the short term, for the organizational piece they imagine that "working with organizations could have an immediate impact on their current operations". Long term objectives revolve primarily around the ability of each organization to build internal capacities to do this work themselves. 
Centre for Social Innovation's Incubator
At the end of their incubator project, we expect Propeller to have their start-up up and running with several case studies and real-world experience under their belts, a solid model for each piece of Propeller, and a model for how the two work together!

Find out more on Propeller by visiting their new website http://propellerinnovations.com  or drop them an email on hello@propellerinnovations.com