Sari Suki 2050 Explores Futures Through Store Experience
Post Date: September 26, 2015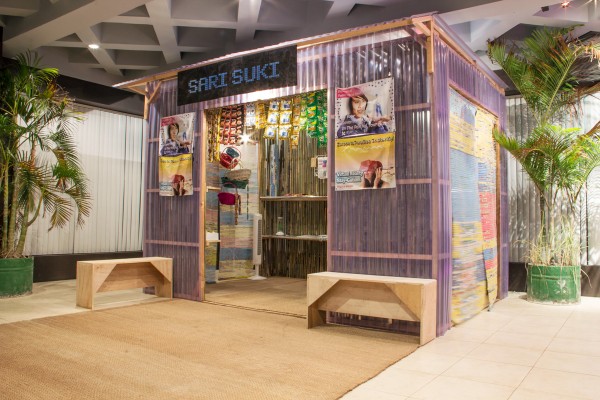 The post-graduate exhibition of Design Strategies 2015 graduates– Sophia Callahan (BBA Design + Management '15), Chris Fussner (BBA Design + Management '15), Noah Emrich (BFA Integrated Design Program '15) – is now on display at 856 G Gallery in Cebu, Philippines. The graduate's design residency with 856 G Gallery allowed the team to apply design research, ethnography, and futuring into the experiential exhibit.
Description of Sari Suki, from the project team:
Sari Suki 2050 is a site specific design installation that projects the local Filipino convenience store, the Sari Sari, 35 years into the future. Sari Sari stores are responsible for nearly 40% of all retail sales in the Philippines, with each store serving at least 20 families. By referencing the familiar Sari structure, VSOON rethinks convenience store items to illustrate concepts and imagine future utility. From Canned Crickets to True Food that address new protiens to Augmented Reality Contacts to Nanobot Cream that reference new technologies to Canned Air and Vintage Water that speak to climate displacement, Sari Suki 2050 proposes a range of possible futures. 
VSOON is a design research studio concerned about the future. Comprised of Parsons School of Design Strategies graduates, Chris John Fussner, Noah Emrich and Sophia Callahan, their work invests itself in a combination of ethnographic research, graphic and web design as well as conceptual practices that allow their projects to be realized across mediums from publications and presentations to websites and installations. 
---