Overall Description
The project "Spatial Therapy" explores the possibility that VR enhances therapy experiences, using multiple immersive prototypes created with mediums such as Google Cardboard, Zepeto Studio, and Unity. This post only shows the final prototype, A VR Art Therapy Tool for Children 5 – 12 years old. For details, please visit the project website linked above.
Challenge Summary
I was interested in the interaction design in virtual reality, to begin with. I also believe that technology should be catered to serve human problems. During the pandemic, my eating disorder worsened because of the feelings of uncertainty and stress. Many people suffer mental distress led to the pandemic as well, but like me, they had a hard time finding help—it can feel intimidating for people who are new to the concept of mental health consultation. At the same time, traditional therapy means (i.e. in-person therapy) have been inconvenient due to social distancing. I, therefore, had the idea to push my research in a direction that addresses these challenges using the emerging immersive technologies.
Research Questions
Throughout this explorational project, I was guided by the central question: what possibilities can immersive mediums bring to mental health consultation?
Target Audience
Context
I was inspired by my weekly therapy session via Zoom call. I understand the level of specialization of therapy and start to imagine bringing it to virtual reality. Following is the situation in that I imagine VR art therapy will take place:
Preliminary consultant;
Zoom meeting;
Providing prompts;
Introducing suitable VR experiences;
Sharing screen via Zoom and interacting with the VR experiences (e.g. playing, drawing, creating);
Discussing the activities and rationalizing patients' behavior;
Provide solutions.
Previsous Prototypies
In my Look and Feel Prototype, I made my test users watch a 360 video through a VR headset. In the video, the test users saw a first-person view of themselves fishing, collecting fruit, cooking on a campfire, and eventually, eating with some friends on a beach. It's a simple storyline that involves forging, cooking, and eating. I asked test users to imagine themself doing those things when watching the immersive video as if they were playing an interactive cooking game.
On Zepeto Studio, I created a virtual world simulating a rehab center, which features 2 parts: a lobby for new patients to meet the therapist and do pre-consultation, and a series of therapy rooms in different themes. With Zepeto's built-in interaction features, users can communicate by typing or choosing expression animations.
I made a virtual therapy space that gives users the agency of changing the environments as well as interacting with the object in the virtual space. Users are able to paint, play music, present prompts, and customize the environment that they are in. What's more, there is a tutorial level where users can play around with the objects and get used to the VR interface.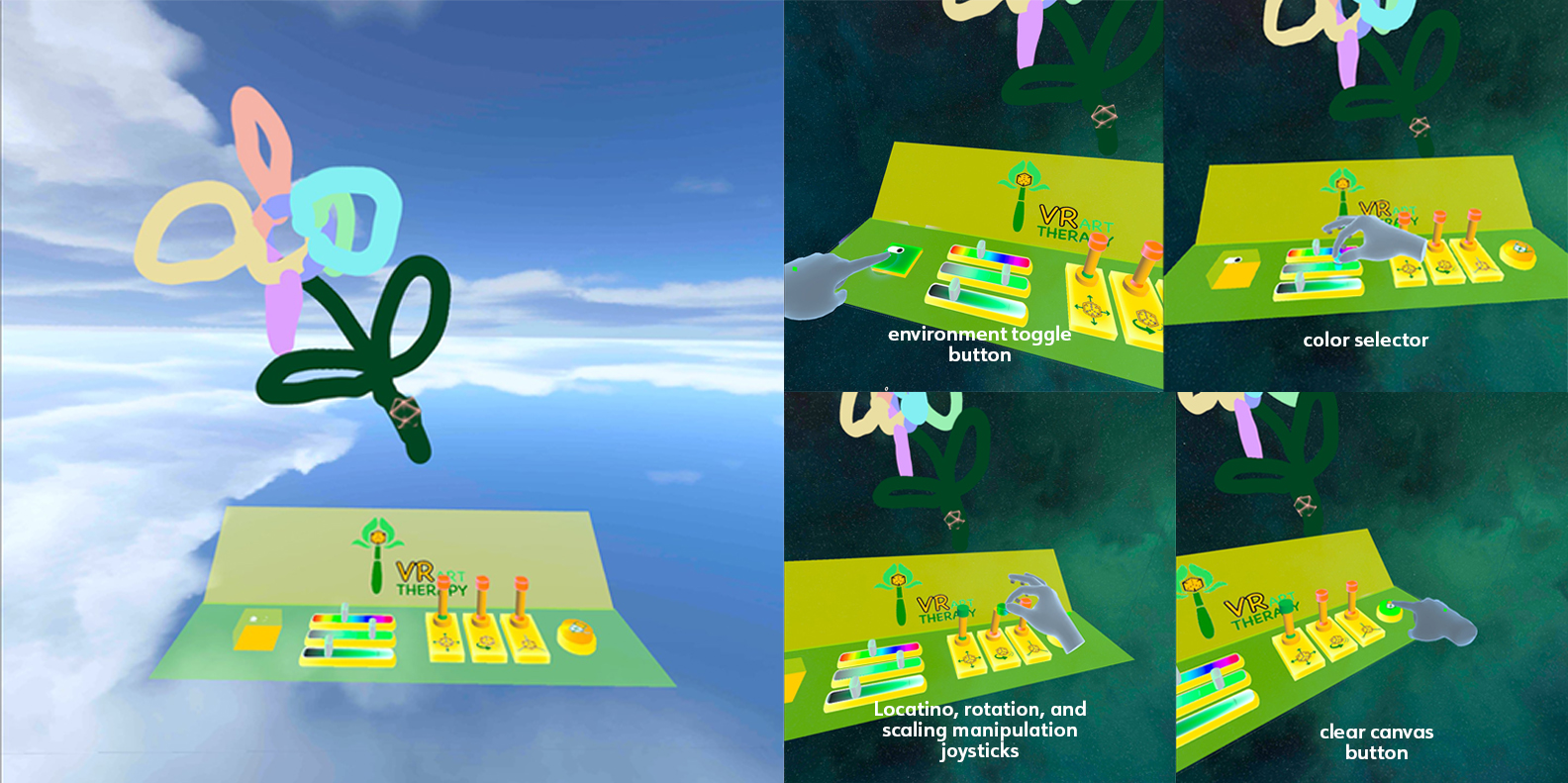 The final prototype is created in Unity using Mixed Reality Tool Kit. In this version, I removed distracting features and only left basic functions including the environment toggle button, color selector, manipulation joysticks, and clear canvas button.
Takeaway (Self-Evaluation)
After a year of researching through prototyping and user-testing, I came to the conclusion that VR supports the art therapy experience by A: providing an immersive experience that allows patients to escape the reality temporarily, thereby helping them unlock their mental activities in certain past moments; B: providing the expanded space for patients to create and interact with the interface in the third dimension, and therefore express their thoughts and feelings more smoothly.
Lately, mixed reality has been a fast-growing industry and widely known new media, and the software and hardware support for it is updating rapidly. Therefore, my prototyping and iteration process involves many different frameworks, tools, and applications, as well as the methodology of prototyping for immersive environments. Throughout the process, I explore prototyping with multiple media, such as scripts, drawings, Google CardBoard, Zepeto World, and Unity VR game, in order to convey unfamiliar ideas to my test users. I learned how different prototyping materials convey ideas of immersive projects from different perspectives.
Interactions in mixed reality applications are an element that I'm very interested in. The media is so new that designers and developers like me are still exploring what works the best for both the users and the existing technology. As per my experience in developing mixed reality applications, interactions that simulate real-world objects (e.g. 3D buttons and objects with gravity) appear to be more acceptable and interesting for the users; operations limited to the 2D interface (e.g. 2D buttons and text ) are hard to draw users' attentions. I applied the experiences I learned to my iterations and received great feedback.
Accessibility is another challenge. Unlike smartphones, VR headsets are owned by only 20% of US customers. When it comes to art therapy, mixed reality may not be the first choice for patients or therapists. One of the solutions is to utilize Web-XR, an API that allows people to develop and host VR and AR experiences on the web. In the future, I wish to bring this project steps further to improve its accessibility and usability by bringing it to XR conferences and receiving feedback from industrial experts.