MicroNature Station envisions a future environment besieged by extreme weather, where humans seek "natural" sensations through highly-controlled, technologically-mediated experiences rather than risking time outdoors. The work uses physical computing and biodesign to create a series of auditory, olfactory, and haptic experiences designed to evoke the feeling of standing on soil after a gentle summer rain.
The front and sides of MicroNature Station have a glowing, streamlined, appearance designed to attract audiences and suggest the future world to which the installation belongs. On the back, a window reveals the underlying technical components that power the immersive experience.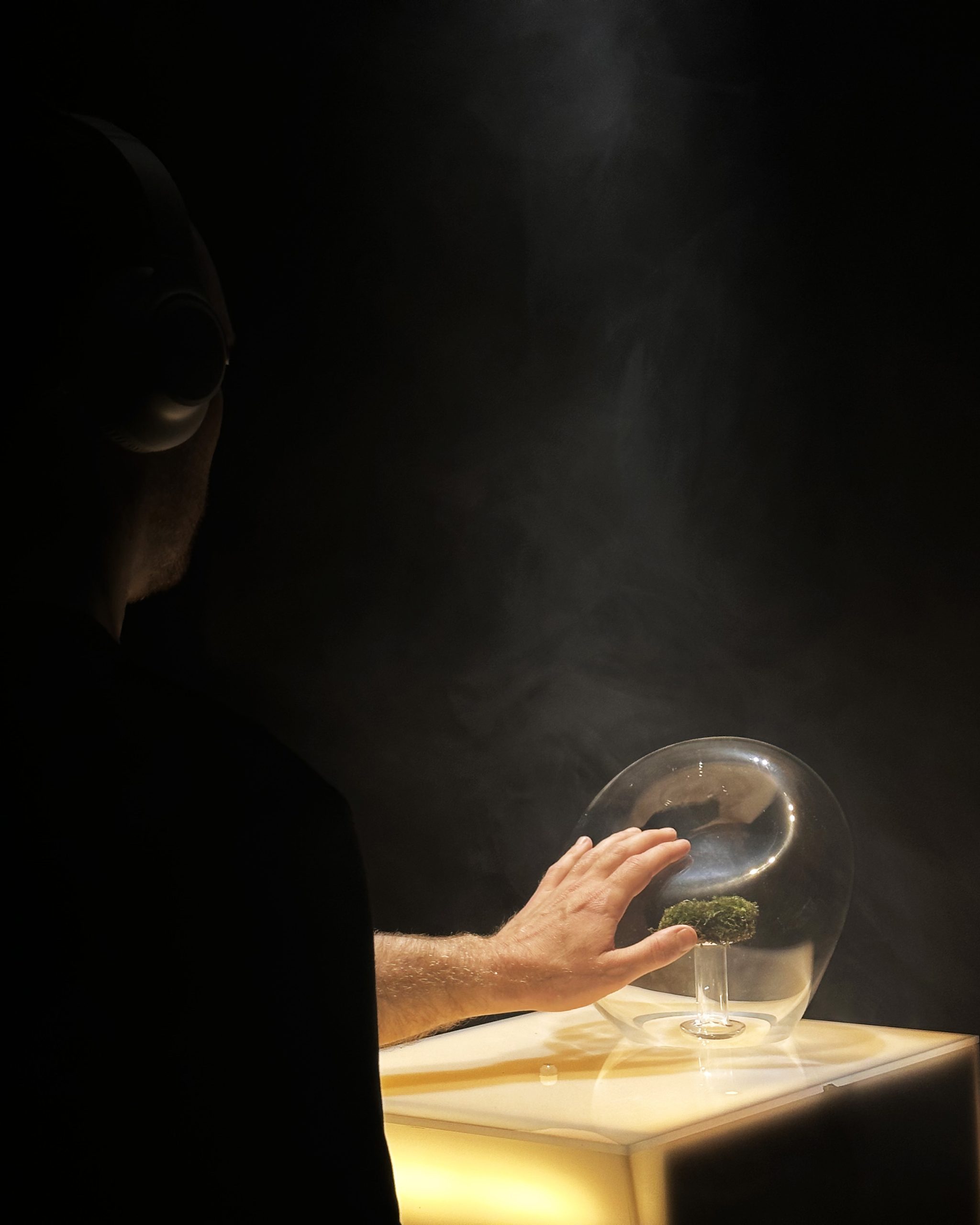 When audiences touch the glass globe, the work releases a custom-mixed fragrance reminiscent of the smell of rain. When they stand on the bioplastic mat, they trigger bluetooth-connected headphones to play the sound of a gentle summer storm.
By immersing visitors in a partial simulation that evokes the sensation of a specific outdoor-related sensory experience, MicroNature Station hopes to inspire critical questions about our current relationship with the organic environment, the future of advanced technology, and the felt experience of living on a planet ravaged by climate change.
Questions under artistic consideration include:
How do we decide what is natural and what is artificial?
What do we gain and lose from a human-centered relationship to the biosphere?
What is our bodies' evolutionary relationship to wild environments?
How are we somatically and sensorially affected by modern, conditioned, and urban surrounds?
How might technological convenience and climate change shift how we access, interpret and engage with organic sources of multisensorial joy?
This project was made possible by the invaluable assistance and encouragement of beloved friends, family, and creative community members. Special thanks to Lauria Clark, Erin Cross, Sukayna Elhani, Emily Gary, Florencia Lechin, Robert Richard, and Stefanie Solèr; Parsons Design and Technology faculty members Clarinda Mac Low, Chris Prentice, and Sven Travis; faculty members Jane Pirone and Fiona Raby; and above all, Vann Joines, whose tireless support has meant everything.