Call for Interns at Designing the We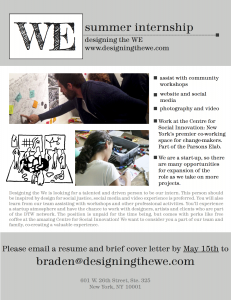 Summer Design and Facilitation Intern
Please email a resume and brief cover letter by May 15th to braden@designingthewe.com.
Designing the We is looking for a talented and driven person to be our intern. This person should be inspired by design for social justice, social media and video experience is preferred. You will also learn from our team assisting with workshops and other professional activities. You'll experience a startup atmosphere and have the chance to work with designers, artists and clients who are part of the DTW network. The position is unpaid for the time being, but comes with perks like free coffee at the amazing Centre for Social Innovation! We want to consider you a part of our team and family, co-creating a valuable experience.
Assist with community workshops
Website and social media
Photography and video
Work at the Centre for Social Innovation: New York's premier co-working space for change-makers. Part of the Parsons Elab.
We are a start-up, so there are many opportunities for expansion of the role as we take on more projects.
Please email a resume and brief cover letter by May 15th to braden@designingthewe.com