NYC/BARCELONA 
LEARNING FROM TENANT PROTECTIONS
AND RENT REGULATION
The fight for tenant rights and rent regulation is unifying tenants and housing justice advocates across global cities. Out of these new coalitions, housing activists are rising to lead ambitious tenant campaigns and housing policy platforms. Some are taking public offices to drive reform while others push for new laws through grassroots organizing. This panel will discuss the strategies and achievements of those leading some of the efforts in New York City and Barcelona. Panelists:
Lucía Martín is Councillor for Housing and Rehabilitation at Barcelona City Council since 2019. She was also a member of the Spanish Congress in 2015-2019, where she led the efforts to introduce rent regulation reform.
Marcela Mitaynes has worked across the state, from Sunset Park to Albany, building coalitions and bringing the power of knowledge and collective action to tenants throughout New York. Marcela is running to represent New York Assembly District 51.
Cea Weaver is the campaign coordinator of Housing Justice for All, a coalition of over 70 organizations that represent tenants and homeless New Yorkers. The campaign's efforts recently helped win the strongest tenant protections the State of New York has seen in a generation.
The discussion will be moderated by Miguel Robles-Durán, Associate Professor of Urbanism.
This panel has been organized by the Housing Justice Lab and Parsons Graduate Urban Programs. This event is free and open to students, faculty and the general public.
Friday, March 6, 2020, 6:00-8:00pm
Room UL 105, Lower Level
The New School University Center
63 Fifth Avenue, New York, NY
---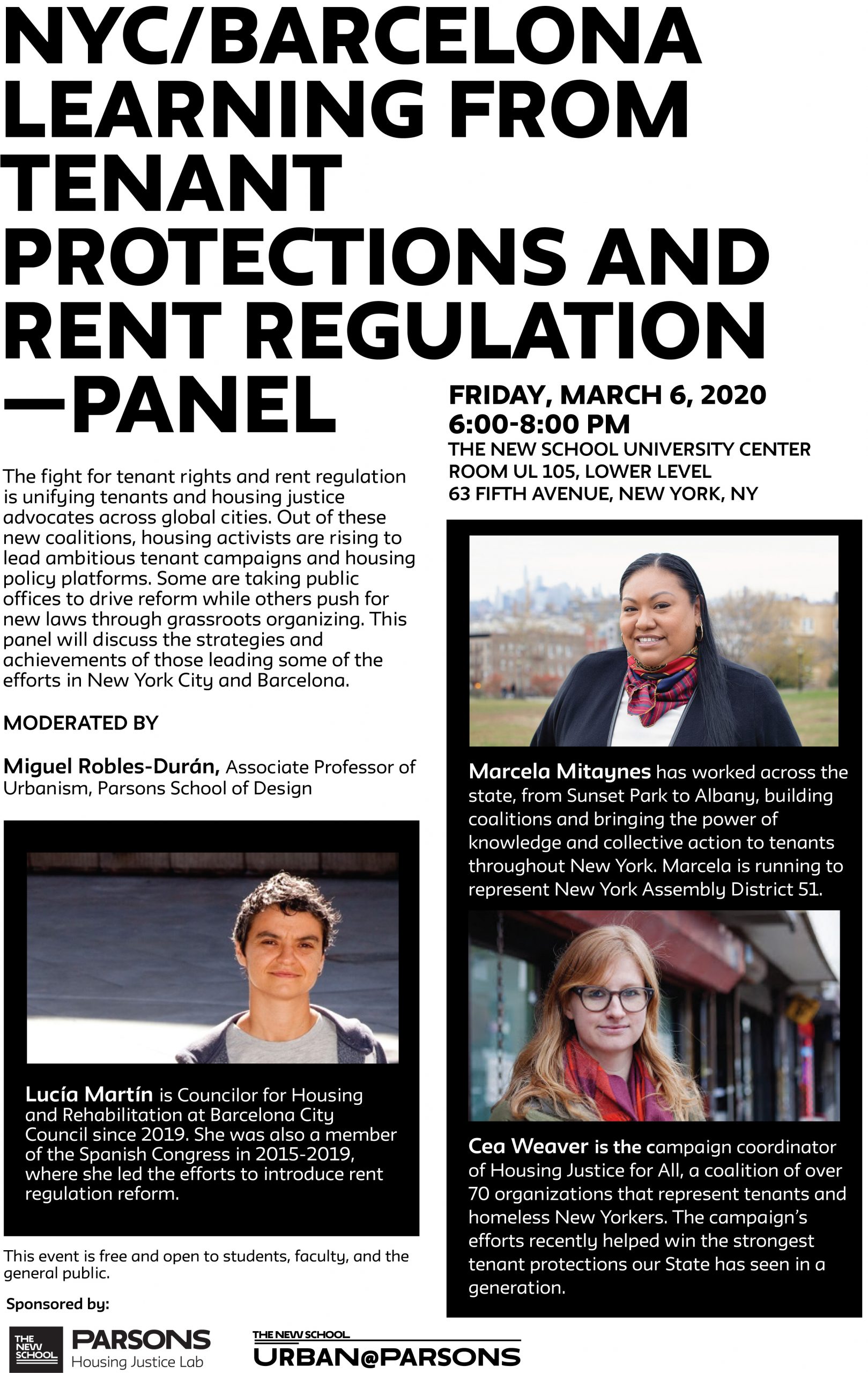 NYC/BARCELONA LEARNING FROM TENANT PROTECTIONS AND RENT REGULATION